"Newton Festival" is a festival among Japanese mainly physics science students have old history for over like 70 years.
Original idea about "Newton Festival" was from well known as the father of modern physics especially classical mechanics,Issac Newton(1642 – 1726) was born at December 25th.
Famous Japanese physist, Jun Ishihara wrote essay about "Newton Festival" in 1942.
[ja] https://www.aozora.gr.jp/cards/001429/files/58021_66541.html[Copyright expired and published on Aozora.gr.jp]
In Newton festival apples dedicated in front of I. Newton's portrait, and people spend the day talking about physics topics or history of physics include I. Newton himself.
Nowadays especially Japanese male students in science area department spend alone without girl-friend in cheerful Christmas season even away from his family because of their deadline of thesis is usually December or January. So they tend to cerebrate Newton Fes with their colleague.
The oldest photo record evidence can be back to winter at 1968.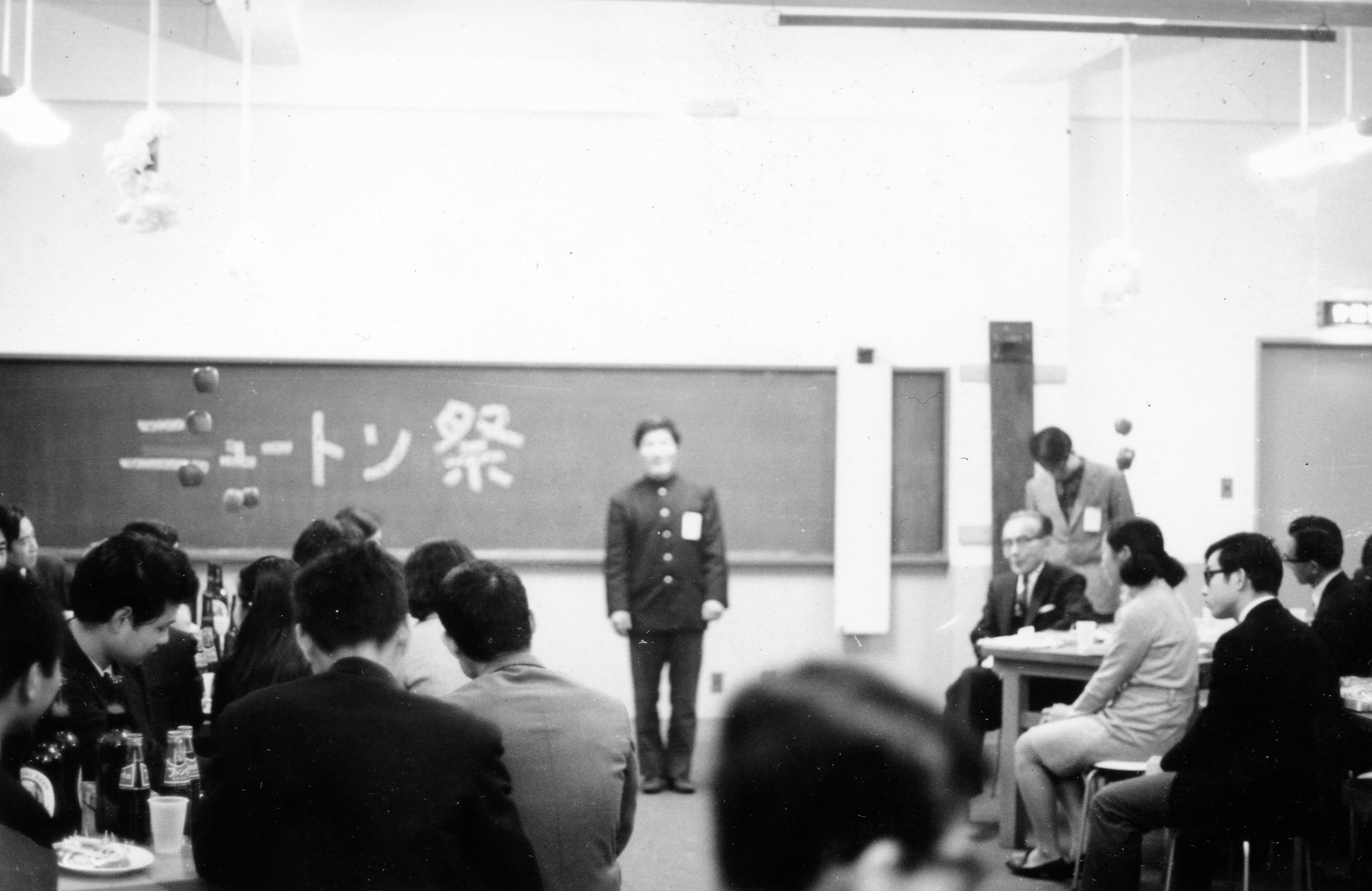 by kazumin.org
Tsukuba University preserve Newton fes flyer cover on web site.
http://tomonaga.tsukuba.ac.jp/sub/principia/
Recently, young generation came to know about "Newton Festival" from the comic "決してマネしないでください" (Kesshite-Mane-Shinai-de-Kudasai) by 蛇蔵(Hebizo)
https://twitter.com/nyorozo/status/679859685927735297
Newton Fesival Song
https://www.youtube.com/watch?v=lmtcmmRrmNA
lylics by Jun Ishihara (石原純)
[instrumental(piano)] https://www.youtube.com/watch?v=2w3i9EPr2-Q
lylics
[English] ( quick translation by M3)
Axial tilt winter night, you can enjoy
(地軸傾く冬の夜を 興ぜずやきみ)
Cold wind but don't care, you can enjoy
(木枯らし吹くを他所にして 興ぜずやきみ)
Warm tonight, science is great
(今宵暖かき此のまどひ 理学の偉業讃ふべく)
Newton Fes here, science is great
(開かれぬニュートン祭  理学の偉業讃ふべく)
– – –
Good step rhythm, you can enjoy
(節面白く足踏みして 興ぜずやきみ)
Red apple , you can enjoy
(赤き林檎のまろぶ迄に 興ぜずやきみ)
All molecule vibe, science is great
(全ての分子斯くし揺らぎ 理学の偉業讃ふべく)
Newton Fes here, science is great
(開かれぬニュートン祭 理学の偉業讃ふべく)
– – –
Enjoy talk loud, you can enjoy
(言のをかしく響きなば 興ぜずやきみ)
Shadows , you can enjoy
(をかしく影の映りなば 興ぜずやきみ)
Waves spread , science is great
(幾への波動をただよはし 理学の偉業讃ふべく)
Newton Fes here, science is great
(開かれぬニュートン祭 理学の偉業讃ふべく)
– – –
party tonight, you can enjoy
(こよひ宴の闌けゆくを 興ぜずやきみ)
time goes by and, you can enjoy
(流るる時の継々に 興ぜずやきみ)
My unforgettable winter night, science is great
(我がなつかしき冬の夜は 理学の偉業讃ふべく)
Newton Fes here, science is great
(開かれぬニュートン祭 理学の偉業讃ふべく)
[Japanese]
ニュートン祭の歌 作詞: 石原純
地軸傾く冬の夜を 興ぜずやきみ
木枯らし吹くを他所にして 興ぜずやきみ
今宵暖かき此のまどひ 理学の偉業讃ふべく
開かれぬニュートン祭  理学の偉業讃ふべく
– – –
節面白く足踏みして 興ぜずやきみ
赤き林檎のまろぶ迄に 興ぜずやきみ
全ての分子斯くし揺らぎ 理学の偉業讃ふべく
開かれぬニュートン祭 理学の偉業讃ふべく
– – –
言のをかしく響きなば 興ぜずやきみ
をかしく影の映りなば 興ぜずやきみ
幾への波動をただよはし 理学の偉業讃ふべく
開かれぬニュートン祭 理学の偉業讃ふべく
– – –
こよひ宴の闌けゆくを 興ぜずやきみ
流るる時の継々に 興ぜずやきみ
我がなつかしき冬の夜は 理学の偉業讃ふべく
開かれぬニュートン祭 理学の偉業讃ふべく